History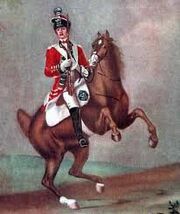 The 19th Juran Guarda is a Light Dragoon Regiment of Cavalry in the Juran Province of Switzerland. it was founded in 1745 by the Lord Chancellor of Switzerland, Lord General Richard Venables A Former British Army officer and close friend of the king, it is well known for taking the fight to the enemy quickly and was invovled in the battle of Windmill Lane against the Swedish in 1769, where it gained undying fame for bravely charging an enemy fortification and taking with a loss of two thirds of the original Regiment, new Reinforcments were brought to the 19th in the summer of 1770 when the British 98th Cavalry Regiment were dispatched to help the Swiss against the French Armies which had invaded the Swiss Canton of Jura to claim it for France. They are currently lead by brave officer and son of Venables, Ishmael Venables.
Ad blocker interference detected!
Wikia is a free-to-use site that makes money from advertising. We have a modified experience for viewers using ad blockers

Wikia is not accessible if you've made further modifications. Remove the custom ad blocker rule(s) and the page will load as expected.