Welcome to the Kroshbon Pointe/Rhine River Military Academy
Info
This is a fairly new academy for Switzerland, the first of it's kind, however, for the Kingdom of Württemberg, it has been there since the early stages of the Holy Roman Empire.... Established by a early duke in 956, it has been training soldiers through many time periods. Our academy services have two facilities currently in the Alpine Region... It is state of the art, and only the best of the best will get in, and out alive.
March : "On, ye brave!", "God save Switzerland!", and "The Soldier's Song"
Motto : Crown, Country, Honor!
Main hall and Headquarters : Kroshbon Hall
Officer's quarters, King's royal hall, and Headmaster's Quarters : Ironshot Field 
Barracks, Alpen Guard stationing, Execution yard - Coalsmythe Field
Military Cemetary, interment - Kroshbon Pointe National Cemetary

Royal Treasury building, Armory - Hall of Blue XIII
Locations and Staff
~ Kroshbon Pointe
Headmaster : Blau XIII
Assistant Headmaster :
Dispilanary Master : 
Drill Master :
~ Rhine River 
Headmaster : Viceroy-Governor Christopher Ironshot
Assistant Headmaster : 
Dispilanary Master : 
Drill Master :
How to get in
Like we said earlier, only the best of the best will make it. A cadet must be reccomended by the Viceroy  of Württemberg for Rhine River, and a count and up for Kroshbon Pointe.
Current honor guard regiments
Jr. Alpen Guard
Jr. Guard Regiment of the Rhine 
Gov't Conscript Regiments 1, 2, 3, 4, and 5 
Jr. Artillery Guard
The Duke's Own Royal Guard
Standard Arms and Equipment
Rifles : Ironshot Breech Loading Rifles
Sidearms - Common Soldiers, Flintlock Pistol  Officers, Pepperbox Pistols  Artillery Soldiers - Royal Hand Cannons
Bayonets - Ironshot Mk XXXII bayonets
Uniforms - Officers, Standard Royal Guard Officers Uniform  Common Soldiers, Alpen Guard PVT uniform  Artillery, Standard Artillery Uniforms
Swords - Officers, Ironshot Mk XI Sword  Artillery, The Duke's Own Mk X Sword
Pictures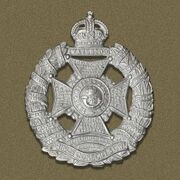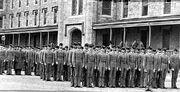 Ad blocker interference detected!
Wikia is a free-to-use site that makes money from advertising. We have a modified experience for viewers using ad blockers

Wikia is not accessible if you've made further modifications. Remove the custom ad blocker rule(s) and the page will load as expected.