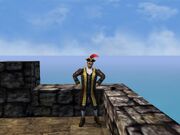 The Ironshot clan is a Clan led by Christopher Ironshot all members will be as is to relation.
Charles Ironshot IV - Father ( Deseasced )
Elizabeth Ironshot II - Mother ( Deseasced )
Charles Ironshot V - Brother (POW- Prisoner of War )
Lawrence Ironshot X - Brother
Elizabeth Ironshot Blastimbers ( Currently Married to Commander George Blastimbers of the French Royal Navy )
Mary Pistol - Ironshot - Wife ( Deseaced )
Rear Admiral Lord Horatio Nelson ( Middle name sake ) Uncle ( Deseasced )
Elizabeth Ironshot IV - Daughter
Charles Ironshot V - Son
This is the list of my Family - My regards Admiral Christopher Horatio Charles Nelson Ironshot Admiral of the Swiss Fleet.
Ad blocker interference detected!
Wikia is a free-to-use site that makes money from advertising. We have a modified experience for viewers using ad blockers

Wikia is not accessible if you've made further modifications. Remove the custom ad blocker rule(s) and the page will load as expected.